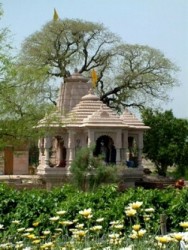 Vrinda Kunda is where Srimati Vrinda Devi is said to contemplate how she will arrange the daily pastimes of Radharani and Krishna. Next to Vrinda Kunda is Gupta Kunda, which is where Radharani is said to secretly meet Krishna. There is a beautiful deity of Vrinda Devi in the temple here.
She has a yellow parrot on her left hand. This parrot is said to fly around Vrindavana and on returning tells Vrinda Devi what is happening there. The parrot is named Daksa and is said to have one lakh (100,000) disciples.
Vrinda Devi arranges the pastimes in Vrindavana. Tulasi is an expansion of Vrinda Devi. Paurnamasi is the guru of Vrinda Devi.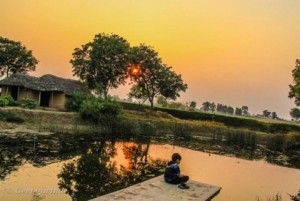 Gupta Kunda is considered to be one of the most important kunds in the Braja area. It is said to be one of the three yoga-pithas in Braja. The other two are at Radha Kunda and near the Govindaji temple in Vrindavana. A yoga-pitha is an eternal center of the Lord's pastimes. It is said that Radha and Krishna meet in the morning at Gupta Kunda, during the mid-day at Radha Kunda and near the Radha Govinda temple in Vrindavana at night.
There is an ancient Radha Krishna murti here, carved out of stone, that is said to have been established by Vajranabha, the great grandson of Krishna. This murti has been desecrated by the Muslims, so worship is no longer done to this murti. Every Monday the local villagers come and pour milk over this murti of Radha and Krishna.
Vrinda Kunda, Gupta Kunda and the small temple here are now in the care of ISKCON devotees. Vrinda Kunda is about one km from the village of Nandgaon (Nandagram), not far from Pavana Sarovara. There is a good view of the Nandagram temple from Vrinda Kunda. The living facilities are very basic at the temple here, as there is no electricity. You can contact the mail out department at the ISKCON Vrindavana Temple to get more information about Vrinda Kunda.
How To Get Here Vrinda Kunda is one km from Nandagram. To get to Vrinda Kunda you can take a taxi and stop at Varsana and Nandagram on the way. To get here from Vrindavana by public transportation you first take a public bus to the town of Kosi and from there you take a tempo to Nandgaon and then walk the remaining km from there. It is about one hour from the Sri Sri Krishna-Balarama Mandir in Vrindavan.
If you are at Nandagram and are on the road facing Pavana Sarovara you make a left turn and go about half a km. There is a road here that goes only to the right and there is a sign here that says Vrinda Kunda, which points to the right. You make a right turn here and go about a km. Vrinda Kunda will be on your left. There is a small temple here and kunds on both sides of the temple.
Please come to Vrinda Kunda
If you don't want to travel alone, please get in touch with the life membership office in the Gurukula building at ISKCON Vrindavan and we'll arrange for someone to take you there. The devotees of Vrinda Devi are always eager to bring more souls to her abode because they know that the Vrinda kunda atmosphere is perfect for remembering Lord Krishna. Without any disturbance you can study, chant, pray, bathe, sweep the paths, clean the kundas, weed the garden and taste, at every step, the sweet nectar of service to Srimati Vrinda Devi.
Darshan Timings
6.30AM – 9.00AM
11.00AM – 1.00PM
4.00PM – 7.00PM