Radha Govinda Swami Katha in Agra Jail
Out of his kindness and mercy, Sri Radha Govinda Maharaja agreed to do 3 days of Bhagwat Katha in Agra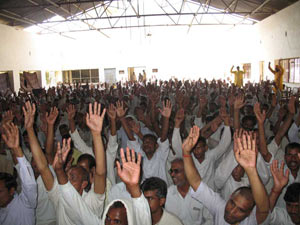 Central Jail last week. All the prisoners and jail authorities thouroughly appreciated Maharaja's lectures and the ecstatic kirtana of the ISKCON devotees. Since we have been regularly preaching there, they now have their own kirtan group that every day does Prabhupada's Guru Puja, kirtan for one hour, and then reads from Bhagavad Gita As It Is. There are a few prisoners that do 64 rounds, at least a dozen that do 16 rounds, and many others who are chanting rounds.
You can see in the one picture that their chanting party has come to greet us holding Srila Prabhupada's picture high over their heads and tossing flower petals on the devotees. Very enthusiatically they escorted us with kirtan to the hall where the program was to take place. It hardly appears to be a jail as they have planted so many trees in the entrance avenue as you can see in the next picture. Arriving at the hall they hardly wanted to stop kirtan and ended loudly with, "Jaya Prabhupada! Jaya Prabhupada! Jaya Prabhupada!"
After garlanding all the devotees and a brief introduction, Maharaja began his lecture starting from how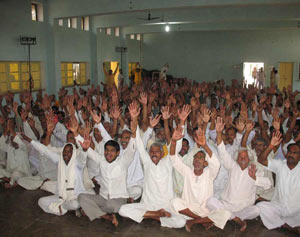 Krishna Himself was born in jail. He very sweetly described the pastime and then lectured very extensively on the four maha sins that keep us in this material jail. All the prisoners sat very attentively listening and you can see them happily responding to Maharaja getting them to chant the mahamantra. This was followed by an ecstatic kirtan led by myself. All the prisoners were jumping up and down and dancing as you see in the photo. All the prisoners applauded very loudly at the end of Maharaja's lecture.
This program continued on for two more days and the crowd and enthusiasm increased each day. I don't think anyone has ever done Bhagwat Katha in jail before. The prisoners reciprocated that on the next day at the entrance of the hall, they made a colorful mandala to greet Maharaja and all the devotees. On the last day, burn-your-finger-hot pure ghee halevah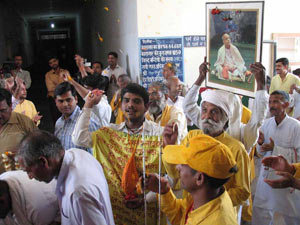 prasada was distributed to almost three thousand prisoners. This was sponsored by our Vrinda Kunda Temple and cooked in the jail by our own devotees. The whole atmosphere of the jail was changed into Goloka Vrindavan!
In service of Srimati Vrinda Devi,
Deena Bandhu dasa